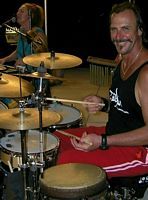 Ted Cobena,Jr. is a veteran drummer of the South Louisiana music scene. He was officially inducted into The Louisiana Music Hall of Fame on January 26th,2013 along with his bandmates in the group Bas Clas. Ted has played and recorded with The Will Walker Band;The Red Beans and Rice Revue; Betty Ball and The Resonators;Bas Clas;Mamou;Joe Kelly and The Kingpins;Eau-1;Sam Whitmire;Shelton Skerrett; Bob Robira; Mr.Wizard, and others.
Lately,here in Florida, he has been playing with Lew Hogue and Nora Wixted Hogue,High Bracket Racket, Fritz Froeschner, The Blue Orleans Blues Band, Duke Bardwell, Hubba Hubba, 30A Amigos and is also a sought after sit in drummer/percussionist for visiting and local musicians, including Jeff Caldwell; Marc Harris; Alice Bargeron,Hadley Castille(the Cajun fiddler),Max McCann, and Big Daddy 'O'. Bas Clas will be keeping Ted busy as well.
After he and his wife,Celeste, relocated to Santa Rosa Beach,Ted built a recording studio so that he could continue to play and record his own music. Soon, however, he was approached by several local songwriters who needed an outlet for their own music, and Soap and Song Productions was born.
To find out more about some of the people who have recorded at Soap and Song Studio, check out the Artists page of this website.
Soap and Song Productions is proud to announce that as of December 2013, they will be working closely with SOAP AND SONG RECORDS to provide listeners with music that is produced right here in the studio. Stay tuned!
To contact Ted, email: tcobena@mchsi.com